8.4

Neoprene 60/70/80

An economical black rubber sheet that has been specifically formulated to provide moderate oil and petroleum based solvent resistance. In addition, this sheet gives good weathering and ozone resistance for outdoor or unusual environmental conditions. This material is utilized in a broad range of industrial applications from gasket making to the chemical and transportation industries.

NEOPRENE 60/70/80

Colour: Black
Finish: Smooth
Tensile: 620 PSI

Elongation: 300% for Neoprene 60 and 70 Duro, 200% for Neoprene 80 Duro

Hardness: 60/70/80 SHORE "A" +/- 5

Tear Strength: 100 Lbs/in

Temperature Range: -30°C to 82°C (-22°F to 180°F)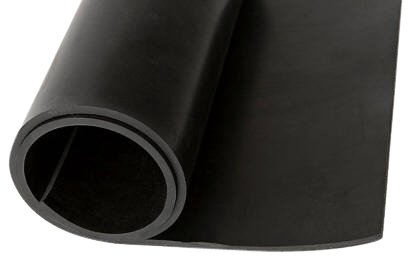 Please contact us for larger volume orders as further discounts may apply.
| Part No. | Thickness | Width | Length | Wt. / Sq.ft. (lbs) | Price | Quantity | Total | |
| --- | --- | --- | --- | --- | --- | --- | --- | --- |
| NEO060-.031-36 | 1/32 | 36 | 100FT | 0.23 | | | | |
| NEO060-.031-48 | 1/32 | 48 | 100FT | 0.23 | | | | |
| NEO060-.063-36 | 1/16 | 36 | 100FT | 0.46 | | | | |
| NEO060-.063-48 | 1/16 | 48 | 100FT | 0.46 | | | | |
| NEO060-.094-48 | 3/32 | 48 | 66FT | 0.69 | | | | |
| NEO060-.125-36 | 1/8 | 36 | 66FT | 0.92 | | | | |
| NEO060-.125-48 | 1/8 | 48 | 66FT | 0.92 | | | | |
| NEO060-.188-36 | 3/16 | 36 | 66FT | 1.38 | | | | |
| NEO060-.188-48 | 3/16 | 48 | 66FT | 1.38 | | | | |
| NEO060-.25-36 | 1/4 | 36 | 66FT | 1.84 | | | | |
| NEO060-.25-48 | 1/4 | 48 | 66FT | 1.84 | | | | |
| NEO060-.375-36 | 3/8 | 36 | 33FT | 2.72 | | | | |
| NEO060-.375-48 | 3/8 | 48 | 33FT | 2.72 | | | | |
| NEO060-.5-36 | 1/2 | 36 | 33FT | 3.64 | | | | |
| NEO060-.5-48 | 1/2 | 48 | 33FT | 3.64 | | | | |
| NEO060-.625-48 | 5/8 | 48 | 33FT | 4.53 | | | | |
| NEO060-.75-48 | 3/4 | 48 | 33FT | 5.48 | | | | |
| NEO060-1-48 | 1 | 48 | 33FT | 7.28 | | | | |
| NEO060-1.25-48 | 1-1/4 | 48 | 9FT | 9.09 | | | | |
| NEO060-1.5-48 | 1-1/2 | 48 | 9FT | 10.92 | | | | |
| NEO060-2-48 | 2 | 48 | 9FT | 14.57 | | | | |
| NEO070-.063-36 | 1/16 | 36 | 100FT | 0.46 | | | | |
| NEO070-.063-48 | 1/16 | 48 | 100FT | 0.46 | | | | |
| NEO070-.094-48 | 3/32 | 48 | 50FT | 0.68 | | | | |
| NEO070-.125-36 | 1/8 | 36 | 66FT | 0.92 | | | | |
| NEO070-.125-48 | 1/8 | 48 | 66FT | 0.92 | | | | |
| NEO070-.188-48 | 3/16 | 48 | 66FT | 1.38 | | | | |
| NEO070-.25-36 | 1/4 | 36 | 66FT | 1.84 | | | | |
| NEO070-.25-48 | 1/4 | 48 | 66FT | 1.84 | | | | |
| NEO070-.375-48 | 3/8 | 48 | 33FT | 2.72 | | | | |
| NEO070-.5-48 | 1/2 | 48 | 33FT | 3.64 | | | | |
| NEO070-.75-48 | 3/4 | 48 | 33FT | 5.48 | | | | |
| NEO070-.1-48 | 1 | 48 | 33FT | 7.28 | | | | |
| NEO080-.125-48 | 1/8 | 48 | 66FT | 0.98 | | | | |
| NEO080-.25-48 | 1/4 | 48 | 50FT | 1.97 | | | | |
| NEO080-.1-48 | 1 | 48 | 33FT | 7.80 | | | | |
Note: When product price is not shown, please call our office for technical consultation prior to place an order
We apologise for the inconvenience but this product is currently unavailable online. Please contact us directly to place your order


Phone: 18005670785
Email: info@vibrasystems.com