2.2

SRMT-1-350 Spring Isolator/Restrainer
SRMT/F series are heavy-duty seismic restrained spring mounts with unique sliding channels designed to withstand lateral loads in combination with vertical loads.
Vibrasystems isolators are tested and certified to ASHRAE 171-2017 for wind and seismic load resistance using cyclic loading in multiple directions. This protocol is more suited for a variety of applications than the OSHPD OPM program, which is only for seismic loads and is intended to provide attachment details for specific equipment, with limited application to other equipment.
Using the seismic and wind capacities in the Vibrasystems certification, a consulting engineer can select the proper isolator based on the demand forces calculated for any configuration of isolators. This gives the engineer flexibility to use more or larger isolators as needed to meet the load demand.
Recommended load range: from 50% of maximum load to maximum load of spring isolator listed in the table below.
There are two available configurations:
SRMF: flat top with an inside leveling adjustment feature.
SRMT: bolted top with leveling adjustment feature.
Recommended for vibration isolation of:
HVAC equipment, fan air circulation systems, compressors, pumps, chillers, AC units, cooling towers, inertia bases, etc.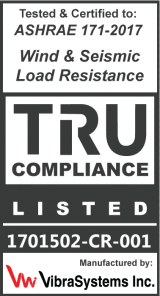 Features:
All springs at rated loads have 50% additional travel to solid load.
All mounts' elements are safe at solid load.
Safety factor - Springs will accomodate 50% extra load from rated load to solid load.
Recommended load range: from 50% of maximum load to maximum load.
Certified ASHRAE 171-2017.
Zinc plates housings and springs provide good corrosion resistance.
Elastomer spring base cap provides better vibration isolation, load distribution, and noise reduction.
Springs are colour coded and easily replaceable.
Rugged welded steel housing designed to withstand seismic and high wind forces.
Anti-skid rubber acoustical pad.
Please contact us for larger volume orders as further discounts may apply.
Model
Rated Load (lbs)
Deflection at Rated Load (in)
Spring Rate (lbs/in)
Max. Vertical/Horizontal G Rating
Spring Colour
Shipping Weight (lbs)
Price
Type
Quantity
Total
1" DEFLECTION
SRM-1-352
140
1.5
93
46.3
Yellow
21
SRM-1-354
250
1.5
167
25.9
Purple
21
SRM-1-354-142
385
1.5
257
16.8
Purple/Blue
22
SRM-1-354-144
650
1.5
433
7.6
Purple/Brown
22
SRM-1-354-146
1,000
1.5
667
5
Purple/Yellow
22
SRM-1-354-148
1,300
1.25
867
4.1
Purple/Green
22
2" DEFLECTION
SRM-1-350
80
2
40
81
Red
21
SRM-1-350-140
160
2
80
40.5
Red/Black
22
SRM-1-403
348
2
174
18.6
Black
21
SRM-1-404
453
2
226
14.3
Blue
21
SRM-1-405
590
2
295
11
Red
21
SRM-1-406
676
2
338
9.6
Orange
21
SRM-1-407
787
2
393
8.2
Green
21
SRM-1-408
918
2
459
7.1
White
21
SRM-1-409
1,000
2
500
6.5
Brown
21
SRM-1-410
1,250
2
625
5.2
White
21
SRM-1-407-150
1,437
2
718
4.5
Green/Grey
22
SRM-1-409-150
1,650
2
825
3.9
Brown/Grey
22
SRM-1-410-150
1,900
2
950
3.4
White/Grey
22
Note: When product price is not shown, please call our office for technical consultation prior to place an order
Notes:
a) Wind and Seismic Certification Compliance Report 1701502-CR-001-R1 is available upon request.
b) 350 Spring: 3" Outside diameter x 5" Free Length.
c) 140 Spring & 170 Spring: 2" Outside diameter x 5" Free Length.
d) 400 Spring: 3" Outside diameter x 5.75" Free Length.
e) 150 Spring: 2" Outside diameter x 5.75" Free Length.
f) Rated load is the maximum load recommended.
Restrained Spring Mounts: A spring mount is a type of isolation system that uses springs to absorb and dampen vibrations, shocks, or movements in a structure. These mounts are often used to isolate equipment, buildings, or structures from external vibrations or forces. The term "restrained" suggests that the movement of the spring system is controlled or limited in some way, possibly to prevent excessive motion during seismic events.
We apologise for the inconvenience but this product is currently unavailable online. Please contact us directly to place your order


Phone: 18005670785
Email: info@vibrasystems.com