The VibraSystems blog is the ideal place to learn more about our products, projects, and plans for the future!
What to Know About Our Spring Hangers
02-10-2018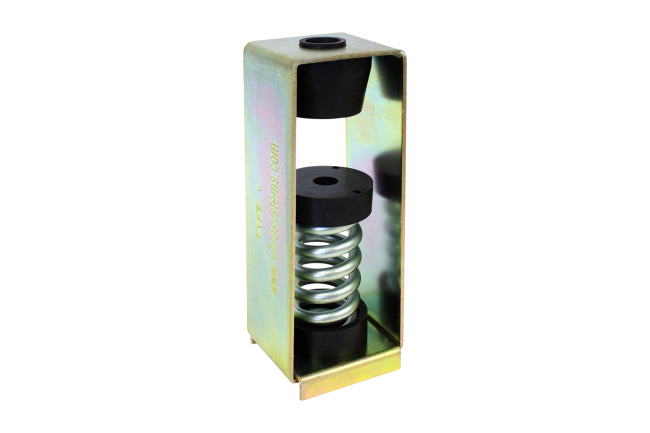 Spring hangers

are part of our constantly-expanding inventory of vibration reduction equipment designed for easy application and effective damping and isolation.
These items are designed for use with components that are located directly their supported parts. As an example, they will often provide balance for a pipe system which has slight vertical displacements, approaching the issue from an angle that is not possible through mounts or padding.
Spring hangers work through their housed coil springs; these are capable of supporting heavy loads despite instances of physical shock or vibration. We usually see these hangers being used in ducts, fans, and similar HVAC applications; they also appear as supporting equipment for suspended structures, such as you might use for a heavy duty construction project.
VibraSystems Inc. offers a variety of heavy duty spring hangers that incorporate our new design of steel housing. The two sides at the base are bent down, which significantly increases the rigidity of the frame as a whole, greatly reinforcing the plate against heavy loads. Several of our hangers also have elastomer cups at their base and/or top, which help to evenly distribute the weight of the load along the hanger.
Our spring hangers possess the following standard features:
Zinc and steel-plated housing for strong corrosion resistance
All of the elements are safe at solid load
Springs are color-coded and can be replaced easily
Standard design allows for an angular misalignment of 15 degrees
When you need to stabilize any kind of suspended structure, VibraSystems's spring hangers can and will get the job done. We have worked hard to create a design of spring and elastomer hanger that can support loads as heavy as 1,800lbs so that your application, whether in HVAC, construction, or anything else, is something we can support with our hangers. Call us today to learn more!