The VibraSystems blog is the ideal place to learn more about our products, projects, and plans for the future!
How do Seismic Restrained Spring Mounts Work?
19-07-2021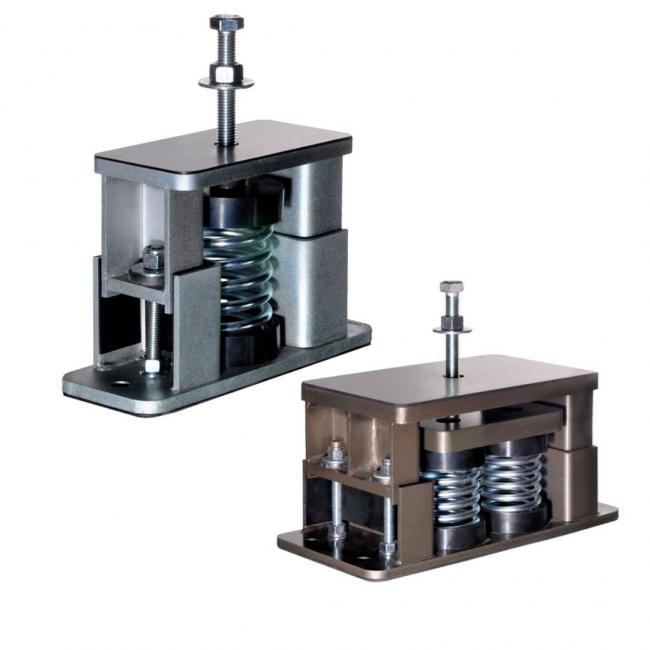 Working Principle of Seismic Restrained Spring Mounts.
Seismic Restrained Spring Mounts are commonly installed along with HVAC equipment and other heavy machinery connected to a building structure. The purpose of these spring mounts is not only to restrict the transmission of high-frequency vibrations from the equipment to the building but to also ensure that the machine can withstand dynamic seismic loads without any damages during seismic disturbances like earthquakes.
A normal design of the product consists of a sprint mount to isolate vibrations produced during operation and an all-direction steel restraint to ensure negligible movement of the base of the equipment during earthquakes. The spring mount is equipped to handle 50% more load than the rated load of the equipment and thus provides an effective vibration isolation solution. The sturdy assembly of bolted steel restraints ensures that there is no lateral or vertical movement of the equipment during seismic disturbances. Vibrasystems offers corrosion-free zinc plated seismic restrained spring mount with up to 3-inch deflection and a capacity to support a load of up to 33,000 lbs.
A perfect design for Seismic Restrained Spring Mounts takes the following factors into consideration:

Seismic force calculations with respect to the localized earthquake readings in an area.
Accurate dimensions of the equipment.
Application of the equipment.
Vibrational frequencies produced during the operation of the equipment.
Applications of Seismic Restrained Spring Mounts.
Seismic Restrained Spring Mounts are essential to safeguard HVAC equipment like air compressors, chilling towers, air cooling units, fans, etc. by restricting the movement during sudden seismic disturbances.

Seismic Restrained Spring Mounts offers reliable vibration solutions to machinery and equipment installed on the roof of the building that are prone to damages due to strong winds.

Seismic Restrained Spring Mounts also protects the buildings and support structures connected to the equipment by absorbing the noise and vibrations produced by the operation of the equipment.
Interested in seismic restrained spring mounts? Contact Vibrasystems for standard and customized anti-vibration products for your vibration isolation needs.