The VibraSystems blog is the ideal place to learn more about our products, projects, and plans for the future!
Design Considerations For A Spring Vibration Isolator
06-09-2023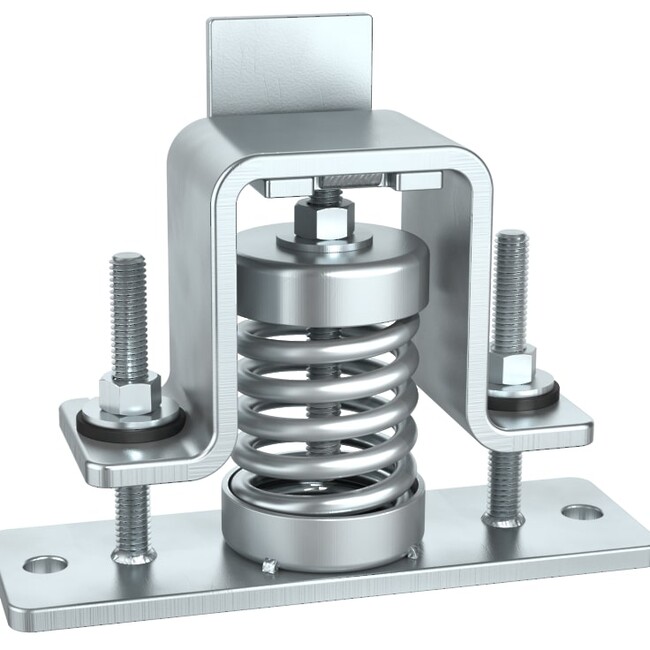 A machinery operating in or on a structural component produces vibrations that can be detrimental to the machine as well as the structure. To mitigate this, a spring vibration isolator is installed for this equipment so that vibration present can be isolated or prevented from impacting a building or adjacent machinery. Owing to its pivotal role in extending a machine's longevity, it is vital to install a properly designed spring isolator for each specific case. To do this, it's essential to take in a few major design considerations.
Factors To Select A Spring Vibration Isolator
Weight/Dimensions Of The Machine
The first thing to consider is the weight of the equipment which is to be isolated. It will directly impact the size and capacity of the spring vibration isolator. Similarly, the size of the machine or equipment is equally important, as it will dictate the space and mounting available for the isolator. Lastly, the device's center of gravity also comes into the picture as it impacts weight distribution of the machine, consequently impacting the effectiveness of vibration isolation.
Frequency And Amplitude Of Vibrations
Next, the frequency and amplitude of the vibrations emanating from the machine also need to be taken into consideration. These dynamic disturbances will help select a spring isolator with the help of a frequency response analysis. In this analysis, the amplitude of the vibration is calculated for input frequency. This helps designers to figure out key elements such as natural frequencies, resonant peaks, transmissibility and more. Hence, it helps to determine the isolation efficiency of a spring isolator for a particular installation. Spring Vibration Isolators come in a different deflection capacity. Knowing the operating frequency of the mechanical equipment will help in selecting optimum deflection of the spring mount.
Environmental Conditions
Depending on where the machine or device is installed in a building, there can be numerous environmental conditions acting on it, such as temperature, humidity, air quality and more. Of these, temperature remains the biggest factor to consider, as it can impact the performance of spring vibration isolators. Hence, it's critical to know the ambient operating temperature of the machine. Additionally, factors like humidity, presence of natural disasters and winds can make an impact.
Therefore, by taking these factors into consideration, it is possible to design an effective spring isolator for numerous applications.
Vibra Systems Inc. manufactures a wide range of spring isolators to protect structural and non-structural components from low frequency vibrations emanating from the machine. All products pass the ASHRAE 171-2017 standards. To know more about the product's technical specifications, contact us today.